10/1/2022 Happy Spooky Month!!!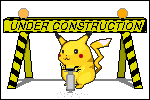 9/27/2022 Just some construction, nothing to see here...
9/24/2022 Updated the gallery with plenty of SepSkunktember art
9/3/2022 Welcome! I've decided to say that this website is no longer fully under construction. There is most definitely more content to come, including art and video games, but not for now. Please, enjoy your stay here in my little corner of the World Wide Web.